Welcome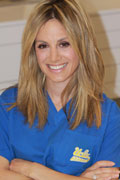 Dr. Papadopoulou and the entire Dental Aesthetic team are devoted to providing the highest standard of patient care and state-of-the-art dental and aesthetic procedures in Athens, Greece and throughout the region.
Dr. Papadopoulou, an active member of the American Academy of Cosmetic dentistry and frequent lecturer, focuses on a variety of cosmetic dentistry options.  Our group is passionate and dedicated to our patients' health and comfort while offering all the latest dental techniques, advanced technology and innovative and novel procedures while reducing any possibility of pain in order to create dental and aesthetic perfection.
Give us a call to make an appointment today or for more information.

Dental Aesthetic Team
© 2023 Dental Aesthetic, All rights reserved.

Maria Anna N. Papadopoulou
DDS / Aesthetic and Restorative Dentistry
Phone: +30.697 0077 423